Joey Deriquito
Content Writer
Nothing excites Joey more than a tank full of gas and an open road. He yearns for knowledge, always studying and researching about cars. Many of his friends would say that his car is an extension of himself, always able to observe when even a single bolt is out of place.
@AutoDealPH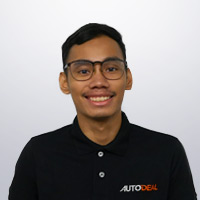 ICER promises to offer affordable yet quality brake pads to Filipino customers.

See what Changan has to offer from January 25 to March 17, 2021, through its dealerships nationwide.

Trucks will soon have an easier time heading north or south thanks to the NLEX SLEX connector.

EDSA traffic flow is now close to what it is during the holiday season.

A new possible 7-seater crossover model will be joining the Geely global lineup soon.

With the new dealership, Geely can reach out to more customers in the country.

It is still a tentative list but it gives you a general idea of what to expect.

With the model already making its way into the Singaporean market, a Philippine launch could be in the works.

if you are in the market for a fuel-efficient 7-seater then heed this list.

A new application to help streamline the contact tracing process.

A definitive answer as to when you should change your tires according to the LTO and the MVIS.

A production-ready version of the electric vehicle might soon be ready.

The DPWH says its EDSA traffic reduction plan is still ongoing and is on track.

The parent company to brands such as Kia, Volkswagen, and Maxus has some surprises in store for 2021.

The decision was done in order to give motorists more time to get RFIDs.

One of Toyota's oldest models in the Philippines could soon be getting a new version.

A shortlist of vehicles that are both safe and affordable.

Rebranding for the American brand starts with a new logo and a new website as well.

A new chairman will soon be taking to his office as the new head of the MMDA.

Ford seeks to enter the compact pickup truck segment with the all-new Maverick.

To prepare the expressway for its official opening certain sections will be closed down to make way for construction and other finishing touches.

A subtle redesign on the outside but a more substantial revision on the inside.

With mu-X being one of the safest SUVs on the market, the only question now is when will it arrive in the Philippines?

While the app isn't available in the Philippines just yet it soon makes its appearance in future new models.

Additional taxes as a response to the petition of the Philippine Metalworkers Alliance to help promote local manufacturing.

It is now easier than ever to get your hands on an Autosweep RFID.

With his sudden passing, the question now arises, who will be his successor?

Looking to get a 7-seater vehicle? Heres a quick list to get your search started

A commonly asked question in 2020 that still has the same answer for 2021.

Aside from a new logo the South Korean automaker now has a new company slogan.

The MG ZS has taken on the more stringent ASEAN NCAP testing and has come out with a 5-star rating.

If you plan to take Skyway Stage 3 here is a list of entry and exit points to take note of.

A quick guide to help you choose between the two available variants of the Ford F-150.

Travel time between the northern and southern expressways has now been reduced.

2021 could prove to be a great year for Hyundai with its planned performance vehicle releases.

An ideal time for those to travel to take advantage of the free toll.

Toyota has one more launch up its sleeve for its home market of Japan with the C+Pod EV.

An important milestone to hit by China's first auto brand to go global.

Gifts that your car enthusiast friends will surely appreciate this holiday season.

The second-generation vehicle is now longer and wider than its predecessor with sleeker looks.

With the three new dealerships, the total for MG Philippines rises to 34.

On top of the GR Sport Vios and GR Yaris, the regular and updated Yaris hatchback also makes its debut.

A quick guide to understanding which Toyota Corolla Cross variant could be for you.

The balanced and middle child of the Vios lineup still has a lot to offer.

3.8

/

5

If you want to get a vehicle with a 360-degree camera then heed this list.

The 4 new models consist of 2 updates to current models as well as two all-new models.

Budget-friendly vehicles that come from a manufacturer that specializes in it.

With the global Yaris a possibility for the local market the GR version could be on the horizon as well.

It copies the formula of success from the Azkarra and doubles down on space and features.

The GR Sport name could also bring about a few new suspension upgrades.